Explore our range of made-to-measure closets that perfectly blend functionality and contemporary style. Each closet is carefully designed to provide superior quality and space optimization.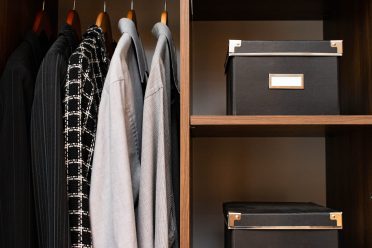 Frequently asked questions
Can made-to-measure closet systems be adapted to any space?
Yes, our made-to-measure closets are designed to fit your space perfectly, whatever the size and shape of your room. Our designers will work with you to create a storage solution that meets your specific needs.
Can I include different types of storage in my custom closet?
Yes, we can include a variety of storage solutions in your custom closet, including shelves, drawers, doors, closets and more.
What's the process of designing a made-to-measure closet?
Our designers work with you hand-in-hand to create the custom closet that meets your preferences and needs, from measurement to design to material selection.
Do you offer an installation service?
Yes, we offer (and highly recommend) a complete installation service. Our professionals will ensure that your custom closet is perfectly installed.
Why choose a custom closet?
If you're looking to maximize storage space in your bedroom while benefiting from an aesthetically pleasing solution, choosing a custom closet is the ideal option for you. Our custom closets allow you to optimize space while offering flexibility to meet your specific storage needs.
Features of our custom closets
Our custom closets are sturdy and durable, because they're made from high-quality materials. Their modern design easily adapts to any interior decor, and these closets offer a practical storage solution while adding a touch of elegance to your room.
How to choose your custom closet?
When choosing a custom closet, it's important to take into account the size of your room, your decorating style and your storage needs. Our team is here to help you make the best choice for your needs and budget.
Custom closets: modular or fully customized
Our interior designers will work closely with you to create the closet that's right for you. We offer complete customization, from materials to finishes and accessories.
Product guarantee
We have great confidence in the quality of our custom closets, which is why we offer a warranty on all our products that protects against defects in workmanship and materials.