Customized walk-in closets
Discover our made-to-measure walk-ins, spacious, open-plan storage spaces, customized and designed to optimize your space and organize your clothes, shoes and accessories.
Our walk-in closets offer the perfect combination of functionality and aesthetics. Transform your home with our custom solutions for an unparalleled storage experience.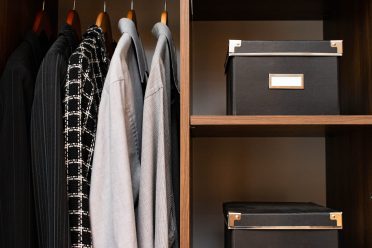 Frequently asked questions
Can custom walk-in closets fit any space?
Yes, they can! Our walk-in closets are designed to fit your space perfectly, whatever the size and layout of your room. Our designers work with you to create a storage solution that meets your specific needs.
Can different types of storage be included in a made-to-measure walk-in?
They certainly can! We offer a variety of storage options in our custom walk-in closets, including shelves, drawers, hooks and more.
How do you go about designing a custom walk-in?
Our designers work closely with you, from the initial measurements to the design and material selection. They'll make sure your custom walk-in meets your specific requirements and preferences.
Do you offer a walk-in installation service?
Yes, we offer a full installation service to ensure that your custom walk-in is perfectly installed and functional.
Why choose the custom walk-in closet option?
If you're looking for a tailor-made storage solution to suit your specific needs while adding a touch of elegance to your space, choosing a custom walk-in is the way to go. Our custom walk-ins allow you to maximize the use of your space while offering maximum flexibility for organizing your clothes, shoes and accessories.
About materials
Our made-to-measure walk-in closets are crafted from high-quality materials, ensuring strength and longevity. Their modern design blends harmoniously with any interior style, offering a practical and stylish storage solution for your clothes and accessories.
How to choose your custom walk-in closet
Before building a custom walk-in, it's important to consider the space available in your room to determine the optimal size and setup of your walk-in.
You should also think about your storage and organizational needs, considering the number of garments, shoes and accessories you wish to store.
Our designers are here to help you think about the layout and ergonomics of your walk-in, ensuring that shelves, drawers and closets are accessible and functional. Finally, we'll help you choose quality materials and an aesthetic design that matches your personal style and the aesthetics of your home.
Product guarantee
We have complete confidence in the quality of our custom walk-in closets, which is why we offer a full warranty against defects in workmanship and materials. For more information on our warranty, please see specific details. Find out more about our warranty
Discover our portfolio
Browse our custom made walk-in portfolio to discover our unique projects that combine design and functionality to make your daily life all the easier.