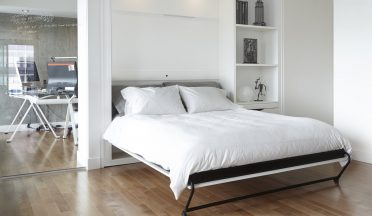 Combining optimal use of space with contemporary design, each bed is designed with special care to ensure top quality and functionality.
Discover our selection of upright wall beds and find the one that will perfectly meet your needs in terms of comfort and use of space.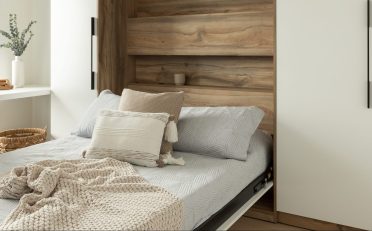 Should you choose a vertical or horizontal Murphy bed?
The main difference between a vertical Murphy bed and a horizontal Murphy bed is the orientation in which the bed folds and the space required. Each type of bed has its own pros and cons, and the choice will depend on available space, intended use, and personal preference.
Frequently Asked Questions
Is it necessary to remove blankets and pillows before raising the vertical Murphy bed?
Most of our upright wall beds are equipped with sophisticated and simple to use mechanisms. They allow the bed to be raised without having to empty it. Talk to your designer
Are upright wall beds easy to use?
Yes, our beds have mechanism systems that make raising and lowering the bed very easy.
Do you offer an installation service?
Yes, we offer (and recommend) a full installation service. Our experts will make sure your vertical wall bed is perfectly installed.
What bed sizes are available?
Depending on the design and components required, our rectractable and storage beds are available in the following sizes;
Single bed
Double bed
Extra-long double bed
Queen bed
Short queen bed
King bed
★ ★ ★ ★ ★
Excellent service from A to Z. The service was prompt and courteous. The furniture is of excellent quality and was exactly what we wanted. The installation was fast and impeccable. They left the living room very clean and kindly gave us advice. I would recommend them 100%.
– Google reviews
★ ★ ★ ★ ★
Impeccable workmanship. Top-of-the-line furniture delivered according to plans and specifications (invoice of over $10,000 including taxes, including mattress). Good after-sales service. No pressure sales at this location. In short: a beautiful piece of furniture that blends in well with the room and adds space.
– Google reviews
★ ★ ★ ★ ★
For a quality local purchase, Limuro is very impressive with  its wide selection and friendly service. You can get a design that's not only practical, but looks the way you want based on the wide range of options here, your new bed may be retractable, but you certainly won't be hiding your own sense of style!
– Google reviews
Vertical Murphy bed
The vertical wall bed folds up towards its height. When opened, it looks like a traditional bed. This type of bed is more common and generally works best in rooms with a ceiling high enough to accommodate the length of the bed. In addition, the vertical bed requires a fairly wide free space on the wall to unfold.
Horizontal Murphy bed
The horizontal Murphy bed folds sideways, so the bed is parallel to the floor when closed. These beds are often preferred in rooms with low ceilings, or in narrow spaces where the clearance for a vertical bed would be insufficient. They are also often used for twin beds or children's beds.
Characteristics of our vertical Murphy beds
The vertical wall beds that we offer are made with top quality materials that guarantee their resistance and durability. They are equipped with smooth and easy-to-use mechanisms that make it easy to switch from down to standing up. Their sleek design blends in perfectly with all interior styles. These beds offer functionality comparable to normal beds and storage beds, allowing you to optimize the use of your room.
Vertical Retractable Beds: in Kit or Made to Measure
Our interior designers will work closely with you to create the vertical Murphy bed of your dreams, taking into account your specific material and design preferences. We offer a variety of modular kits and finishes and offer optional additional shelves. If you have special requests, we can also design custom models for you. Each bed is made to order, allowing full customization of finish, material, color, and handles to meet your unique needs.
Delivery and Installation in 6 Weeks
We are committed to delivering and installing your vertical Murphy bed within 6 weeks, respecting your constraints and deadlines, because customer satisfaction is our priority.
Interior Designer Approach
Our interior designer focuses on your needs and supports you from start to finish. From the choice of materials and colors to the design and installation, he/she ensures that everything meets your requirements. Our designers are experts in space maximization and interior design, able to enhance existing spaces and create new ones.
Product Warranty
We have great confidence in the quality of our vertical Murphy beds, which is why we offer a guarantee protecting against defects in workmanship and materials. The mechanisms are guaranteed for 25 years. Learn more about our warranty