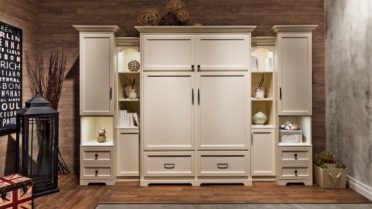 Our carefully designed country-style foldaway beds offer a unique combination of rustic style and modern functionality. They perfectly embody the tranquility and charm of country homes, while allowing you to optimize your living space. Discover the beauty and exceptional quality of our beds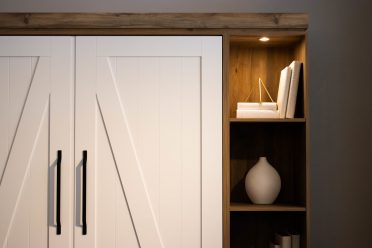 Why choose a rustic Murphy bed?
A country-style retractable bed offers a warm, rustic aesthetic that can transform your space. Thanks to their clever design, they save space while adding a touch of style to your interior. They're perfect for those who want to combine comfort, style and functionality.
Frequently asked questions
Are your wall beds easy to use?
Yes, our country beds are equipped with sturdy, easy-to-use mechanisms.
How long does a country-style retractable bed last?
With proper maintenance, our country beds are designed to last for many years, even decades.
How long does delivery take?
We commit to delivering and installing your retractable bed within 6 weeks.
Do you offer a custom design service?
Yes, we'll work with you to create a customized country-style retractable bed that perfectly suits your needs and tastes
What is your warranty policy?
We offer a warranty that covers all material and manufacturing defects. Mechanisms are guaranteed for 5 years.
Features of our foldaway beds
Our country wall beds are made from high-quality wood and finished with refined details that enhance their natural beauty. They feature sturdy, easy-to-use mechanisms, guaranteeing smooth handling for years of use.
How to choose your retractable bed
When choosing your country-style retractable bed, consider the space you have available, your personal needs and the style of your interior. Our advisors will be delighted to help you find the perfect bed for you, whether it's a standard or custom-made model.
Retractable country beds: in kit form or made-to-measure
We offer a customized design service to help you create the retractable country bed of your dreams. Our beds are based on modular kits that feature a variety of door options and can be completed with additional elements such as shelving. For more specific needs, we offer tailor-made designs to suit the customer's precise requirements, and whatever the choice, every bed is made to order, allowing total customization of finish, material, color and handles.
The interior designer's approach
Our interior designers will work with you every step of the way, from the initial design to the final installation, to help you choose the materials, colors and finishes that will perfectly match your style and space. They'll make sure you're completely satisfied with your new wall bed.