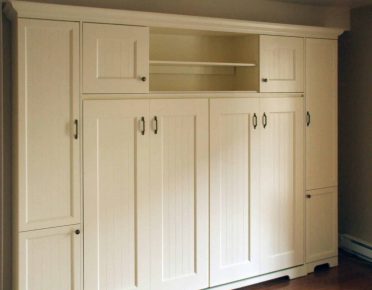 Important information
The model (or kit) is defined by the design of the cabinet doors used to conceal the bed. Each model offers several manufacturing options.
While we specialize in custom designs, we also offer 22 pre-drawn models. Contact us to learn more!
About this model
Available for custom design
Made in Québec
72 colors available
Mechanical Warranty: 25 years
Delivery time: 8 weeks
Discover the Newton retractable bed, a true jewel of functionality. This versatile model integrates perfectly into any space, offering an ideal solution for creating a multifunctional room. With its country look, the Newton wall bed brings a warm, welcoming touch to a guest room, an office or even a living room. In a single motion, it cleverly conceals itself, freeing up space and allowing you to enjoy the room to the full during the day.
Thanks to its high-quality finishes and fluid retraction mechanism, the Newton bed combines aesthetics and practicality. It's the ideal choice for those who want to optimize space while adding a touch of country charm to their home.
LATERAL MURPHY BED DIMENSIONS
Note: Dimensions vary according to the mechanism and manufacturing options chosen.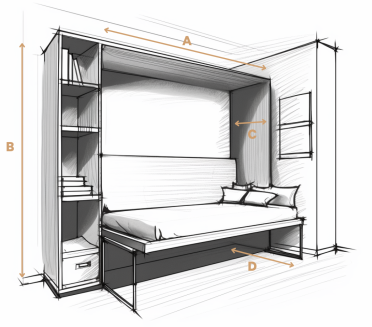 | Lateral beds | Width (A) | Height (B) | Depth (C) | Projection (D) |
| --- | --- | --- | --- | --- |
| Simple | 80 inches | 46 to 48 inches | 16 to 21 inches | 49 to 56 inches |
| Double | 80 inches | 61 to 67 inches | 16 to 21 inches | 64 to 70 inches |
| Queen | 85 inches | 67 to 73 inches | 16 to 21 inches | 70 to 75 inches |
| Lateral beds | Width (A) | Height (B) | Depth (C) | Projection (D) |
| --- | --- | --- | --- | --- |
| Simple | 203.2 cm | 116,84 to 121,92 cm | 40,64 to 53,34 cm | 124,46 to 142,24 cm |
| Double | 203.2 cm | 154,94 to 170,18 cm | 40,64 to 53,34 cm | 162,56 to 177,8 cm |
| Queen | 215,9 cm | 170,18 to 185,42 cm | 40,64 to 53,34 cm | 177,8 to 190,5 cm |
Find out more about this model
Custom-made or kit manufactured options
When choosing a retractable bed, you have two options: custom-made retractable beds and kits. Custom-made beds are perfectly adapted to your space and style. With customizable dimensions, finishes and features, these beds offer maximum flexibility.
Kit beds, on the other hand, come in standard sizes. These are more affordable in terms of cost and installation, in short a practical option for limited budgets.
Custom-made design and manufacturing
Limuro's team of talented designers excels at creating custom-made designs! We put our skills at your disposal by working collaboratively to understand your tastes, your layout and your desires. Our goal is to precisely design custom-made storage cabinets and pull-out beds that combine elegance, innovation and practicality.
Each piece is created with care and attention to detail, offering you superior craftsmanship and choice materials. We're passionate about what we do at Limuro, and that's reflected in every project we undertake.
Customer satisfaction
Your satisfaction is our top priority, and we demonstrate this through our after-sales warranty service. If you have the slightest problem with your retractable bed, our team is there to provide fast, efficient assistance. We are committed to resolving any concerns you may have, whether they involve adjustments, repairs or replacements.
Our after-sales warranty service is designed to offer you comprehensive support, so you can enjoy your retractable bed with complete peace of mind. At Limuro, we're here to support you every step of the way.
Autres modèles disponibles