Important information
The model (or kit) is defined by the design of the cabinet doors used to conceal the bed. Each model offers several manufacturing options.
While we specialize in custom designs, we also offer 22 pre-drawn models. Contact us to learn more!
About this model
Available for custom design
Made in Québec
72 colors available
Mechanical Warranty: 25 years
Delivery time: 8 weeks
Designed in Quebec, the Cosmo retractable bed is a functional and aesthetic solution for children's bedrooms. This ingenious model lets you maximize available space by easily transforming the room into a versatile living space during the day.
Thanks to its fluid folding mechanism, you can put the bed away in an instant, freeing up precious space for playing, studying or simply relaxing. In the evening, the Cosmo transforms into a truly comfortable bed, offering your child a restful night's sleep.
With its meticulous finishes and sturdy construction, the Cosmo retractable bed combines practicality and design, creating an ideal environment for small spaces and the changing needs of growing children.
LATERAL MURPHY BED DIMENSIONS
Note: Dimensions vary according to the mechanism and manufacturing options chosen.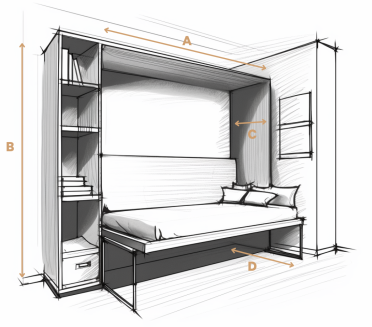 | Lateral beds | Width (A) | Height (B) | Depth (C) | Projection (D) |
| --- | --- | --- | --- | --- |
| Simple | 80 inches | 46 to 48 inches | 16 to 21 inches | 49 to 56 inches |
| Double | 80 inches | 61 to 67 inches | 16 to 21 inches | 64 to 70 inches |
| Queen | 85 inches | 67 to 73 inches | 16 to 21 inches | 70 to 75 inches |
| Lateral beds | Width (A) | Height (B) | Depth (C) | Projection (D) |
| --- | --- | --- | --- | --- |
| Simple | 203.2 cm | 116,84 to 121,92 cm | 40,64 to 53,34 cm | 124,46 to 142,24 cm |
| Double | 203.2 cm | 154,94 to 170,18 cm | 40,64 to 53,34 cm | 162,56 to 177,8 cm |
| Queen | 215,9 cm | 170,18 to 185,42 cm | 40,64 to 53,34 cm | 177,8 to 190,5 cm |
Find out more about this model
Custom-made or kit manufactured options
When it comes to choosing a retractable bed, you have two options: made-to-measure or a kit. Opt for a made-to-measure bed if you're looking for a solution perfectly suited to your space and style. You'll enjoy great flexibility in choosing dimensions, finishes and features.
Looking for an economical, easy-to-install option? The kit bed will meet your expectations with its standard dimensions and simplified installation. Our team is here to understand your needs and offer you the best solution for your situation.
Custom design and conception
We pride ourselves on our expertise in custom design. We have a team of talented designers who work closely with our customers to understand their aesthetic preferences and space constraints.
We're passionate about our craftsmanship and use advanced manufacturing techniques to create custom retractable furniture of remarkable practicality, while bringing unprecedented elegance and innovation. Each piece is created with meticulous attention to detail with superior quality materials. Our customized approach is unique to each customer, reflecting their style and meeting their practical needs to create a uniquely elegant look.
Customer satisfaction
Your satisfaction is our top priority. We ensure that our entire team is fully available to help you, at any time, to resolve any difficulties you may have with our products. Our after-sales warranty service is fast, agile and efficient, and our professionals are on hand to offer competent, individualized support to meet your expectations.
Whether you're looking to adjust, repair or replace, our team works hard to meet all your needs, so you can get the most out of your new acquisition.
Autres modèles disponibles