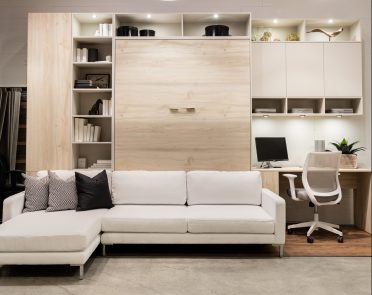 They combine modern design with optimal use of space. Each bed has been created with great care to ensure optimum quality and functionality. Discover our collection of wall beds with sofa
Some of our Murphy beds with couch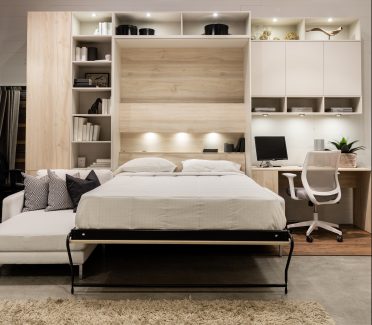 Why choose a Murphy bed with couch?
Choosing a sofa Murphy bed means optimizing space and comfort. This ingenious solution offers a comfortable sofa during the day and a comfortable bed for the night. Whether you live in a studio apartment or are looking to create a multifunctional space, our Murphy beds with sofa are the perfect choice.
We can create more space for your living environment.
★ ★ ★ ★ ★
Excellent service from A to Z. The service was prompt and courteous. The furniture is of excellent quality and was exactly what we wanted. The installation was fast and impeccable. They left the living room very clean and kindly gave us advice. I would recommend them 100%.
– Google reviews
★ ★ ★ ★ ★
Impeccable workmanship. Top-of-the-line furniture delivered according to plans and specifications (invoice of over $10,000 including taxes, including mattress). Good after-sales service. No pressure sales at this location. In short: a beautiful piece of furniture that blends in well with the room and adds space.
– Google reviews
★ ★ ★ ★ ★
For a quality local purchase, Limuro is very impressive with  its wide selection and friendly service. You can get a design that's not only practical, but looks the way you want based on the wide range of options here, your new bed may be retractable, but you certainly won't be hiding your own sense of style!
– Google reviews
Frequently Asked Questions
Does the sofa have to be moved to lower the bed?
Our wall beds with couch are designed so that you don't have to move the sofa to lower the bed. Simply lower the bed with ease using our automatic mechanism. This allows an easy and quick transition from sofa mode to bed mode, without having to move heavy or bulky furniture.
Are Murphy beds with sofas easy to use?
Yes, our beds are equipped with mechanisms that facilitate the opening and closing of the bed.
What is the lifespan of a Murphy bed with sofa?
Our sofa Murphy beds are built to last. With proper use and regular maintenance, they can serve for many years.
Do you offer an installation service?
Yes, we offer (and highly recommend) a full installation service. Our professionals will ensure that your Murphy bed with sofa is perfectly installed.
What bed sizes are available?
Depending on the design and components required, our rectractable and wall beds are available in the following sizes;
Single bed
Double bed
Extra-long double bed
Queen bed
Short queen bed
King bed
Features of our Murphy Beds with couch
Our wall beds with sofa are made from top quality materials that guarantee their sturdiness and durability. They feature simple, easy-to-use mechanisms, allowing for a smooth transition from sofa to bed. The built-in sofa can be used for resting and relaxing while watching TV or reading a book, while the Murphy bed can be easily rolled out to provide a comfortable and restful night's sleep. All to maximize the space available in your room.
Murphy Beds with couch: Kits or Made to Measure
Our interior designers will work closely with you to create the Murphy bed with sofa that meets your expectations. We offer models based on modular kits with various finishing options and the possibility of adding additional elements such as shelves or drawers. For specific needs, we offer custom designs. In any case, each bed is made to order.
Product Warranty
We have great confidence in the quality of our Murphy beds with sofa, which is why we offer a guarantee against defects in workmanship and materials. The mechanisms are guaranteed for 25 years.