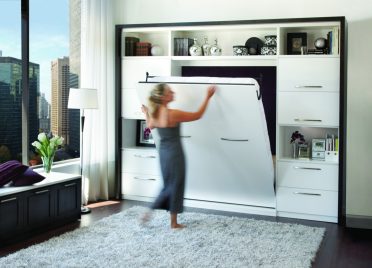 Make room
Looking for a functional solution to optimize your space while adding a touch of elegance?  Our Wall beds are the perfect answer to your needs. Made from high-quality materials, our beds combine practicality and style. Discover our range of retractable beds that will transform your living space.
How long does delivery and installation take?
We are committed to delivering and installing your custom-made retractable bed within 6 weeks.
Can I customize my Murphy bed?
Absolutely! We offer a personalized design service that allows you to create the perfect bed for your space and needs.
Is there a warranty for your Murphy beds?
The furniture is covered by a one-year warranty against manufacturing defects.
The Murphy-bed mechanism is covered by a 25-year warranty on all metal components.
* Certain conditions apply
Do you offer an installation service?
Yes, we offer (and recommend) a complete installation service. Our experts will make sure your retractable bed  is perfectly installed.
Installation must be carried out by professionals.
– The retractable bed must be securely fastened to the wall.
– The bed cannot be fastened in drywall alone.
– Using the appropriate hardware, a specialized contractor will need to fasten the wall bed into wood or metal studs, framing members or a cement wall.
– Periodically check the condition of your installation to make sure the bed is still securely fastened to the wall.
What bed sizes are available?
Depending on the design and components required, our rectractable and storage beds are available in the following sizes;
Single bed
Double bed
Extra-long double bed
Queen bed
Short queen bed
King bed
★ ★ ★ ★ ★
Excellent service from A to Z. The service was prompt and courteous. The furniture is of excellent quality and was exactly what we wanted. The installation was fast and impeccable. They left the living room very clean and kindly gave us advice. I would recommend them 100%.
– Google reviews
★ ★ ★ ★ ★
Impeccable workmanship. Top-of-the-line furniture delivered according to plans and specifications (invoice of over $10,000 including taxes, including mattress). Good after-sales service. No pressure sales at this location. In short: a beautiful piece of furniture that blends in well with the room and adds space.
– Google reviews
★ ★ ★ ★ ★
For a quality local purchase, Limuro is very impressive with  its wide selection and friendly service. You can get a design that's not only practical, but looks the way you want based on the wide range of options here, your new bed may be retractable, but you certainly won't be hiding your own sense of style!
– Google reviews
Features of our wall beds
Our retractable beds are characterized by their meticulous design and durability. Their smooth, reliable mechanism guarantees easy opening and closing. What's more, our retractable beds are available in a variety of styles, finishes and sizes to suit your preferences and blend harmoniously with your interior decor.
Custom design service
Our team is here to help you design your custom retractable bed. We'll work closely with you from design to installation, taking into account your specific needs, space constraints and preferred style. Each bed is made to order, guaranteeing total customization.
Product guarantee
We're proud of the quality of our retractable beds, and offer a full warranty against defects in materials and workmanship. This gives you peace of mind to enjoy your retractable bed.
– The furniture is covered by a one-year warranty against manufacturing defects.
– The Murphy-bed mechanism is covered by a 25-year warranty on all metal components.
* Certain conditions apply
About styles
Contemporary Murphy beds
The contemporary retractable bed offers a sleek, modern design, perfect for contemporary interiors, with clean lines and elegant finishes
Country style Murphy beds
The country-style retractable bed is distinguished by its warm, rustic style, with natural wood details, traditional ornaments and a country feel.
Classic Murphy beds
The classic retractable bed presents a timelessly elegant aesthetic, with refined lines, sophisticated details and traditional finishes, offering a touch of sophistication to any space.
Urban Murphy beds
The Urban retractable bed features a contemporary, urban design with clean lines, modern finishes and maximum functionality, ideal for urban living spaces where space maximization is paramount.
About bed types
Murphy bed with desk
A versatile solution that combines comfortable sleeping space with an integrated functional desk, ideal for small spaces or guest rooms used as a home office. It offers a clever design that makes it easy to transform the workspace into a resting space when needed.
Murphy bed with couch
A perfect fusion between an elegant sofa and a comfortable bed, offering both a space for lounging and practical sleeping for guests. Its easy-to-use mechanism makes it simple to switch from sofa to bed, offering a practical solution for optimizing space in living rooms or guest rooms.
These pages might interest you