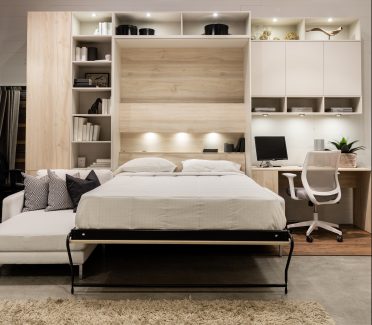 Looking for a functional and personalized solution to optimize your space with style? Our custom wall beds are designed to your specifications to perfectly fit your space. Made with high quality materials, these beds combine practicality and elegance, offering a tailor-made solution to transform your living space.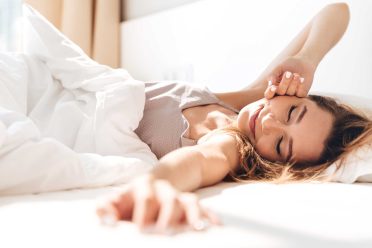 We optimize space to bring unforgettable moments to life.
Limuro offers design solutions for small spaces. Come visit our showroom, where you can benefit from the experience of our team of qualified designers for a personalized layout tailored to your needs and dimensions.
Frequently Asked Questions
Are our bespoke wall beds easy to use?
Absolutely ! Featuring a simple and smooth mechanism, our bespoke wall beds are easy to open and close, providing a convenient and effortless user experience.
What is the delivery and installation time for custom wall beds?
We promise to deliver and install your bespoke wall bed within 6 weeks, so you can quickly enjoy your space-optimized solution.
How can I customize my bespoke Murphy bed?
With our tailor made design service, you can choose the dimensions, finishes and features of your Murphy bed, creating a product that perfectly matches your needs and style.
Is there a warranty for custom wall beds?
Yes, all of our custom wall beds are backed by a comprehensive warranty that gives you peace of mind in the event of defects in materials or workmanship.
★ ★ ★ ★ ★
Excellent service from A to Z. The service was prompt and courteous. The furniture is of excellent quality and was exactly what we wanted. The installation was fast and impeccable. They left the living room very clean and kindly gave us advice. I would recommend them 100%.
– Google reviews
★ ★ ★ ★ ★
Impeccable workmanship. Top-of-the-line furniture delivered according to plans and specifications (invoice of over $10,000 including taxes, including mattress). Good after-sales service. No pressure sales at this location. In short: a beautiful piece of furniture that blends in well with the room and adds space.
– Google reviews
★ ★ ★ ★ ★
For a quality local purchase, Limuro is very impressive with  its wide selection and friendly service. You can get a design that's not only practical, but looks the way you want based on the wide range of options here, your new bed may be retractable, but you certainly won't be hiding your own sense of style!
– Google reviews
Custom design service
Our team of experts is there to assist you in the design of your custom Murphy bed. Working closely with you, we will take into account your specific needs, space constraints and preferred style to create a unique bed that perfectly matches your expectations.
Product Warranty
We are confident in the quality of our custom wall beds, which is why we offer a comprehensive warranty that protects you against defects in materials and workmanship. So you can enjoy your custom Murphy bed with peace of mind.
Learn more about our warranty
About Styles
Contemporary
The Contemporary Murphy Bed offers a clean modern design, perfect for contemporary interiors, with clean lines and elegant finishes
Rural
The country wall bed is distinguished by its rustic and warm style, with natural wood details, traditional ornaments and a country atmosphere.
Classic
The classic Murphy bed features a timeless and elegant aesthetic, with sleek lines, sophisticated details and traditional finishes, offering a touch of sophistication to any space.
Urban
The Urban Wall Bed is characterized by its contemporary and urban design, with clean lines, modern finishes and maximum functionality, ideal for urban living spaces where space optimization is paramount.
About Bed Types
Murphy bed desk
A versatile solution that combines a comfortable sleeping area with a functional built-in desk, ideal for small spaces or guest rooms used as a home office. It offers a clever design that makes it easy to transform the workspace into a resting space when needed.
Sofa Murphy bed
A perfect fusion between an elegant sofa and a comfortable bed, offering both a space to relax and a practical bed for guests. Its easy-to-use mechanism makes it easy to convert from sofa to bed, offering a practical solution for optimizing space in living rooms or guest rooms.
Chest Murphy bed
Featuring built-in storage space under the mattress, it is ideal for maximizing the use of space in the bedroom. It provides both comfortable sleeping and convenient storage space for blankets, pillows and other items, helping to keep the bedroom tidy and organized.
Murphy bed wardrobe
A practical sleeping solution that turns into a functional wardrobe when the bed is not in use. It is ideal for small bedrooms or spaces where storage space is limited. This type of wall bed offers both a comfortable sleeping space and a built-in storage solution, helping to optimize the use of space in the bedroom.