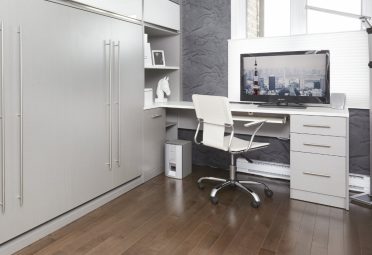 Looking for a functional and elegant solution to optimize your space? Our wall beds are designed with high-quality materials, combining practicality and style.
Discover our range of wall beds that will transform your living space.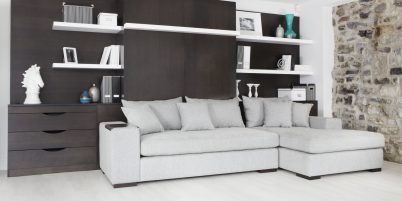 Explore our selection of wall beds appreciated by our customers for their exceptional quality, style and functionality.
Frequently asked questions
Are our wall beds easy to use?
Yes, they are! Featuring a simple, fluid mechanism, our wall beds open and close easily, offering a convenient user experience.
What is the delivery and installation time for wall beds?
We commit to delivering and installing your wall bed within 6 weeks, so you can quickly enjoy your enhanced space.
Is there a warranty for wall beds?
Yes, all our wall beds are covered by a full warranty, giving you peace of mind in the event of defects in materials or workmanship.
Features of our wall beds
Our wall beds are distinguished by their meticulous design, durability and smooth operation. Available in a variety of styles, finishes and sizes, they adapt perfectly to your space and decorating style.
Design service
Our team of experts is here to help you design your wall bed. We'll take into account your specific needs, space constraints and preferred style to create a bed that perfectly matches your expectations.
Product guarantee
We're confident in the quality of our wall beds, which is why we offer a comprehensive warranty that protects you against defects in materials and workmanship. Enjoy your wall bed with complete peace of mind. Learn more about our warranty
About styles
Contemporary
The contemporary wall bed offers a sleek, modern design perfect for contemporary interiors, with clean lines and elegant finishes
Country
The country wall bed features a warm, rustic style, with natural wood details, traditional ornaments and a country ambiance.
Classic
The classic wall bed features a timeless, elegant aesthetic, with refined lines, sophisticated details and traditional finishes, offering a touch of sophistication to any space.
Urban
The Urban wall bed features a contemporary, urban design with clean lines, modern finishes and maximum functionality, ideal for urban living spaces where space optimization is paramount.
Available wall bed sizes
Single wall beds
Double wall beds
Queen wall beds
King wall beds
About bed types
Wall bed with desk
A versatile solution that combines comfortable sleeping space with an integrated functional desk, ideal for small spaces or guest rooms that are used as a home office. It offers a clever design that makes it easy to transform the workspace into a resting space when needed.
Wall bed with sofa
A perfect fusion between an elegant sofa and a comfortable bed, offering both a space for relaxation and a practical sleeping area for guests. Its easy-to-use mechanism makes it simple to switch from sofa to bed, offering a practical solution for maximizing space in living rooms or guest rooms.
Chest bed
Featuring integrated storage space under the mattress, it's ideal for maximizing the use of space in the bedroom. It offers both a comfortable bed and practical storage space for blankets, pillows and other items, keeping the bedroom tidy and organized.
Wardrobe wall bed
A practical sleeping solution that transforms into a functional wardrobe when the bed is not in use. It's ideal for small bedrooms or spaces where storage space is limited. This type of wall bed offers both a comfortable sleeping space and an integrated storage solution, thus optimizing the use of space in the bedroom.
Wall beds are also called
Several words are used to describe wall beds, although they all mean the same thing, these terms are interesting to understand:
Retractable bed
The term retractable bed refers to a bed that can be folded or stored vertically against a wall or in a wardrobe structure to save space when not in use.
Murphy bed
The Murphy bed is a term used to designate a wall bed. It takes its name from William L. Murphy, the American inventor who popularized the concept in the early 20th century.
Wall bed
The term built-in is used since wall beds blend perfectly into the environment and can be concealed when necessary.
Fold-down bed
The term fold-down refers to a bed that can be folded or collapsed to save space when not in use.
Wardrobe bed
The term wardrobe bed is commonly used to refer to wall beds in general, as they are one of the most popular types of bed. Wall beds often fold into a wardrobe to blend in with the rest of the furnishing
Other pages that might interest you