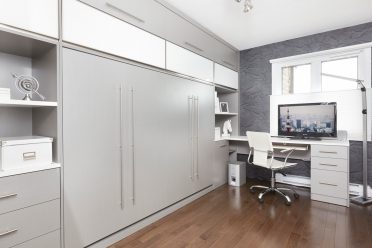 Important information
The model (or kit) is defined by the design of the cabinet doors used to conceal the bed. Each model offers several manufacturing options.
While we specialize in custom designs, we also offer 22 pre-drawn models. Contact us to learn more!
About this model
Available for custom design
Made in Québec
72 colors available
Mechanical Warranty: 25 years
Delivery time: 8 weeks
The Unity Murphy bed is the ideal choice for small urban lofts, combining functionality, durability and simplicity. Its clever manufacturing and side opening maximize the space available, offering a practical solution for optimizing your living space.
Whether you need a versatile area for working, relaxing or receiving guests, the Unity hideabed meets all your needs. Its smooth, silent opening and closing mechanism ensures a pleasant user experience. What's more, its sturdy, durable construction guarantees long-term use without compromising on quality.
With the Unity Murphy bed, you can easily transform your living space into a comfortable sleeping area, and vice versa, with ease.
LATERAL MURPHY BED DIMENSIONS
Note: Dimensions vary according to the mechanism and manufacturing options chosen.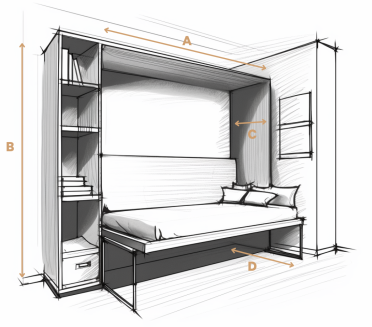 | Lateral beds | Width (A) | Height (B) | Depth (C) | Projection (D) |
| --- | --- | --- | --- | --- |
| Simple | 80 inches | 46 to 48 inches | 16 to 21 inches | 49 to 56 inches |
| Double | 80 inches | 61 to 67 inches | 16 to 21 inches | 64 to 70 inches |
| Queen | 85 inches | 67 to 73 inches | 16 to 21 inches | 70 to 75 inches |
| Lateral beds | Width (A) | Height (B) | Depth (C) | Projection (D) |
| --- | --- | --- | --- | --- |
| Simple | 203.2 cm | 116,84 to 121,92 cm | 40,64 to 53,34 cm | 124,46 to 142,24 cm |
| Double | 203.2 cm | 154,94 to 170,18 cm | 40,64 to 53,34 cm | 162,56 to 177,8 cm |
| Queen | 215,9 cm | 170,18 to 185,42 cm | 40,64 to 53,34 cm | 177,8 to 190,5 cm |
Find out more about this model
Custom-made or kit manufactured options
When it comes to retractable beds, the choice between buying a custom-made or a kit model can seem difficult. But worry no more. If you want a unique wall bed that perfectly suits your style and apartment, with dimensions of your choice, custom finishes and features, we recommend our custom-made models.
On the other hand, if you're looking for an affordable, easy-to-assemble, yet high-quality Murphy bed, our kit option is for you. It may not offer all the features of our custom-made models, but it will certainly meet your current needs and budget.
Custom-made design and manufacturing
Custom-made manufacturing and design is the Limuro way. We merge our expertise to meet your preferences, optimize space constraints and create innovative, practical furniture. Our team of ultra-talented professionals brings passion and precision to every room, adorning it with subtle details.
We use only the finest materials and techniques to infuse each piece of retractable furniture with unique elegance. Trust Limuro for custom-made excellence.
Customer satisfaction
Your satisfaction is our primary concern! Our team provides you with superior after-sales service warranty for a worry-free experience. If you ever have a problem with your retractable bed, our team of experts will help you find a quick and efficient solution. At Limoro we are fully committed to the quality of our products every step of the way, guaranteeing your complete satisfaction. Trust us to provide you with an exceptional experience, backed by our expertise and professionalism.
Autres modèles disponibles