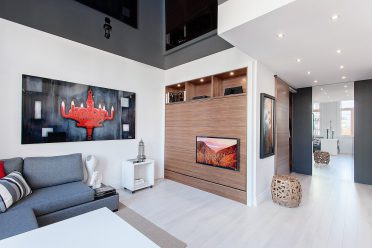 Important information
The model (or kit) is defined by the design of the cabinet doors used to conceal the bed. Each model offers several manufacturing options.
While we specialize in custom designs, we also offer 22 pre-drawn models. Contact us to learn more!
About this model
Available for custom design
Made in Québec
72 colors available
Mechanical Warranty: 25 years
Delivery time: 8 weeks
The Panorama retractable bed is an ideal choice for modern spaces. This model is designed to bring a feeling of space to a narrow bedroom, thanks to its clever side opening. Perfect for low ceilings, the Panorama wall bed offers a practical solution for maximizing available space. Its sleek, elegant design blends harmoniously with any décor, while its functionality makes it easy to transform the bedroom into a versatile space.
Whether for everyday use in a small apartment or to create a welcoming guest room in a small space, the Panorama Murphy bed offers uncompromising comfort and style.
LATERAL MURPHY BED DIMENSIONS
Note: Dimensions vary according to the mechanism and manufacturing options chosen.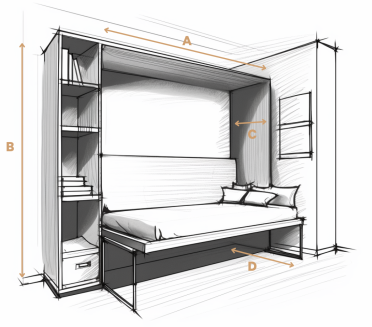 | Lateral beds | Width (A) | Height (B) | Depth (C) | Projection (D) |
| --- | --- | --- | --- | --- |
| Simple | 80 inches | 46 to 48 inches | 16 to 21 inches | 49 to 56 inches |
| Double | 80 inches | 61 to 67 inches | 16 to 21 inches | 64 to 70 inches |
| Queen | 85 inches | 67 to 73 inches | 16 to 21 inches | 70 to 75 inches |
| Lateral beds | Width (A) | Height (B) | Depth (C) | Projection (D) |
| --- | --- | --- | --- | --- |
| Simple | 203.2 cm | 116,84 to 121,92 cm | 40,64 to 53,34 cm | 124,46 to 142,24 cm |
| Double | 203.2 cm | 154,94 to 170,18 cm | 40,64 to 53,34 cm | 162,56 to 177,8 cm |
| Queen | 215,9 cm | 170,18 to 185,42 cm | 40,64 to 53,34 cm | 177,8 to 190,5 cm |
Find out more about this model
Custom-made or kit manufactured options
When you're looking for a hideabed, you have two choices: custom-made or a kit. The custom-made folding bed is perfectly suited to your space and style, while offering incredible flexibility in terms of dimensions, finishes and functionality.
If you prefer something more economical and easy to install, the Murphy bed kit without all the custom-made features is a suitable option for tighter budgets or temporary needs. In short, there's something for every budget and every style.
Custom-made design and manufacturing
Limuro offers unrivaled expertise in custom design and manufacturing. Not only do we work with you, we also take into account your aesthetic preferences and the space constraints you face. Thanks to our know-how and cutting-edge techniques, we create exclusive, custom-made retractable furniture that combines practicality, elegance and innovation.
You'll be enchanted by our talented team, who work meticulously on each piece, paying rigorous attention to the choice of materials and the smallest of details. Let Limuro impress you with unique, custom-made furniture.
Customer satisfaction
Your satisfaction is our number one priority. We're here to provide unbeatable after-sales service. If you have any concerns about your Murphy bed, our team will be on hand to lend a helping hand at any time. We bring all our professional expertise to bear to quickly resolve any difficulties.
We value the quality of our products as much as your experience with us. The Limuro team will be there every step of the way to support you and guarantee you the best experience.
Autres modèles disponibles