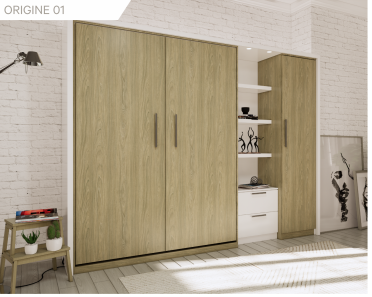 Transform a cluttered space into a spacious, organized haven. Now it's within reach with our foldaway bed kits. Let's create the perfect balance between functionality and aesthetics. Our retractable beds are designed to maximize your living space without compromising style and comfort.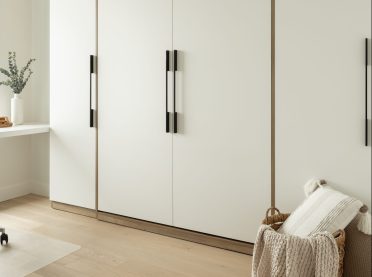 Discover our Murphy bed kits
Our wall bed kits are much more than just wall beds. They reflect our commitment to offering our customers innovative solutions that transform their living spaces. Each kit offers:
Ingenious design that maximizes space
High-quality materials for enhanced durability
Easy installation and hassle-free operation
Customizable options to match your style
Customer testimonials
These testimonials illustrate the impact of our products on their quality of life and overall satisfaction.
★ ★ ★ ★ ★
Excellent service from A to Z. The service was prompt and courteous. The furniture is of excellent quality and was exactly what we wanted. The installation was fast and impeccable. They left the living room very clean and kindly gave us advice. I would recommend them 100%.
– Google reviews
★ ★ ★ ★ ★
Impeccable workmanship. Top-of-the-line furniture delivered according to plans and specifications (invoice of over $10,000 including taxes, including mattress). Good after-sales service. No pressure sales at this location. In short: a beautiful piece of furniture that blends in well with the room and adds space.
– Google reviews
★ ★ ★ ★ ★
For a quality local purchase, Limuro is very impressive with  its wide selection and friendly service. You can get a design that's not only practical, but looks the way you want based on the wide range of options here, your new bed may be retractable, but you certainly won't be hiding your own sense of style!
– Google reviews
Pre-designed and custom options
To meet a variety of needs and preferences, we offer both pre-designed options and custom kits. Here's how these two options differ:
Pre-designed options
Kits come with a predefined design that has been engineered to be both aesthetically pleasing and functional. They're perfect for those looking for a fast, efficient solution.
Note that materials, colors and accessories must be chosen for both pre-designed beds and custom projects.
Made-to-measure murphy bed
For those with specific requirements or who want a unique design, our made-to-measure kits are the ideal solution. They are designed to meet your exact requirements.
The ordering process
Whether you opt for a pre-designed or custom option, we're committed to providing you with exceptional service. Here are the key steps:
Initial consultation
We discuss your needs and ideas, and explore possible options for your space.
Design development and/or validation of options
Our interior designers create technical drawings for your approval.
Manufacturing
Once the design has been approved, our team of expert carpenters gets to work.
Delivery and installation
We deliver and install your retractable bed, ensuring minimal inconvenience to you.
Free consultation
Ready to find out how a retractable bed kit can transform your space? Contact us for a free consultation. We'd be delighted to discuss your ideas and help you turn your vision into reality.
Why choose our retractable bed kits?
There are many reasons to choose our retractable bed kits. Here are just a few of them:
Space-saving without compromising style and comfort
Pre-designed options for a quick solution and custom designs to meet your specific needs
High-quality manufacturing by expert craftsmen
Dedicated customer service to support you every step of the way
Getting started
If you're ready to enhance your living space with a retractable bed, contact us today so we can start discussing your project. We look forward to working with you to create the space you've always dreamed of.
Product warranty
We are confident in the quality of our contemporary wall beds. That's why all our products are covered by a warranty that protects against defects in materials and workmanship. The mechanisms are guaranteed for 25 years. Learn more about our warranty.
Autres pages qui pourraient vous intéresser