25 storage ideas and tips for the home
Published on May 10, 2023
Last update on August 17, 2023
What could be more satisfying than a clean, organized living space? A tidy home can have a significant impact on both our well-being and our productivity. But beyond our good intentions, we can sometimes run up against space constraints when it comes to putting away all our belongings.
Rest assured, there are plenty of tips on how to maximize the use of available space. Discover our easy and effective storage ideas to transform your home into a space that's both functional and soothing.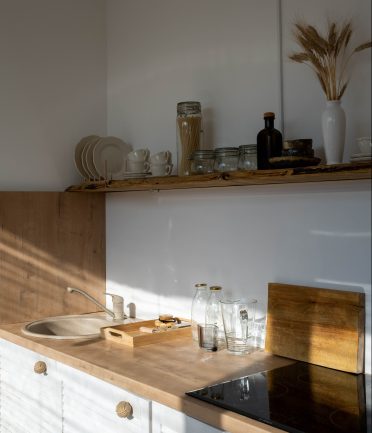 Use vertical space
It's easy to double your storage space by using walls and ceilings to their full potential. This solution is ideal for optimizing small, cramped and neglected areas:
1. Install hooks
Position them at different heights to use the space to its full potential. They'll always come in handy in the hallway to hang hats and scarves, in the cupboard to hang belts and handbags, or in the bathroom to store your personal toiletries.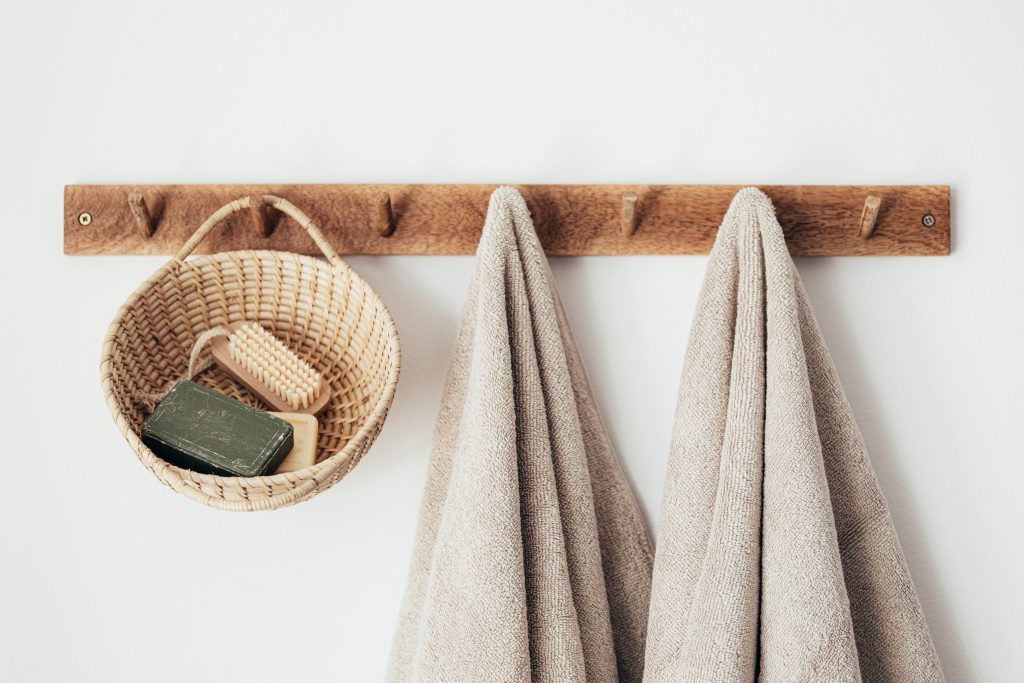 2. Install shelves
A long picture rail running all the way around the room can be used to show off your frames and other decorative accessories, while at the same time clearing up the clutter on surrounding surfaces. Several superimposed shelves can be used for wall storage. Add baskets to hide practical but less aesthetic items.
3. Give preference to storage cabinets
In small spaces such as hallways or laundry rooms, every centimeter counts. Use tall storage units to maximize the use of space. Rely on modular storage shelves with adjustable compartments and shelves that can adapt to your needs.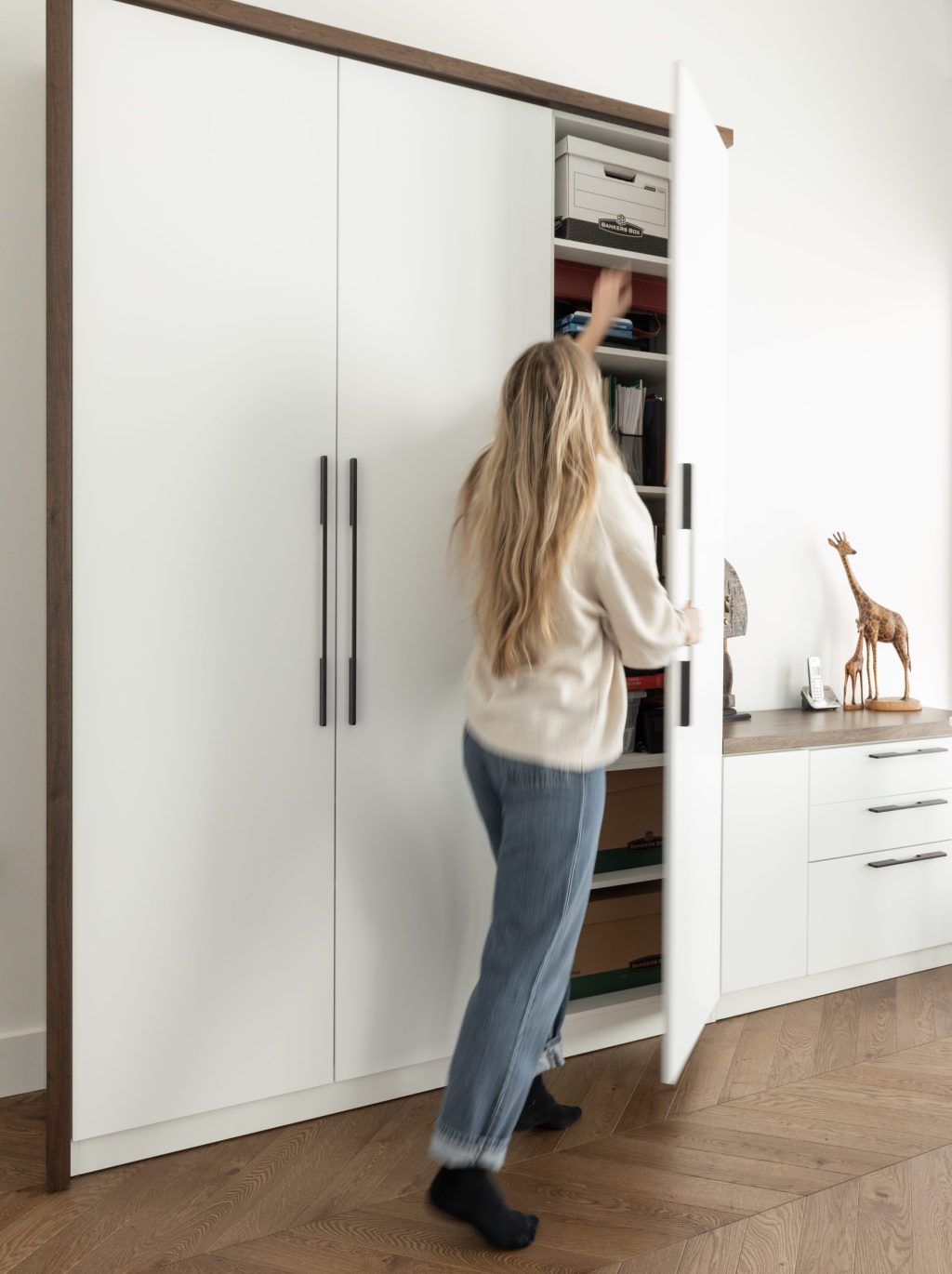 4. Use suspended fixtures
Lighting isn't the only thing that goes on the ceiling! Have you ever thought of hanging your pots and pans above the island for extra storage in the kitchen? There are also glass holders to hang your wine glasses or coffee cups.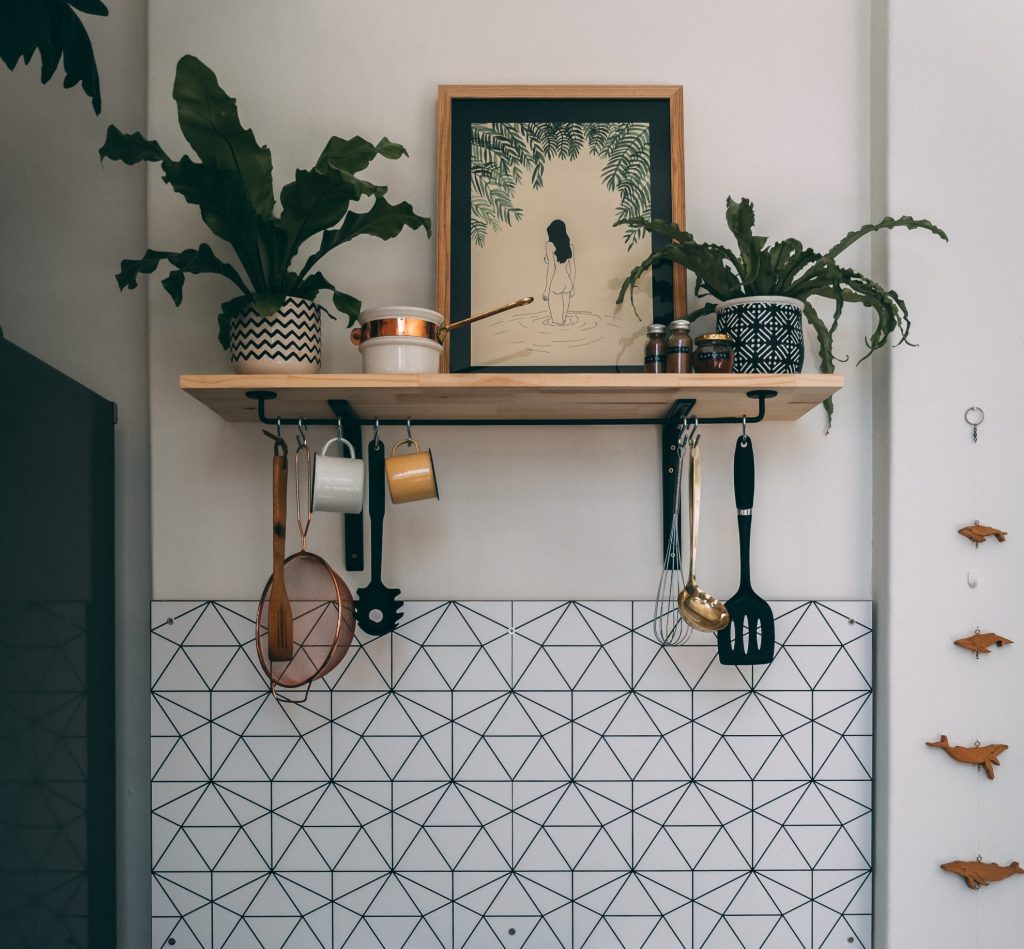 5. Optimize the underside of your cabinets
Free up your kitchen counters by hanging items such as paper towels, napkins and cooking utensils below your upper cabinets. You can also install a magnetic panel to hold your spice jars or coffee capsules.
Choose dual-purpose furniture
An excellent option is to choose dual-purpose furniture that can provide storage or be transformed to suit your needs. This ingenious type of furniture will allow you to maximize the use of available space while keeping your look up to date.
6. Choose a retractable bed
Retractable beds offer versatile functionality, making them an ideal piece of furniture for small, multifunctional rooms. You can easily transform a bedroom or office into a living space by folding the bed against the wall. Numerous bed options with side and top storage are also available to maximize the use of your guest room according to your specific needs.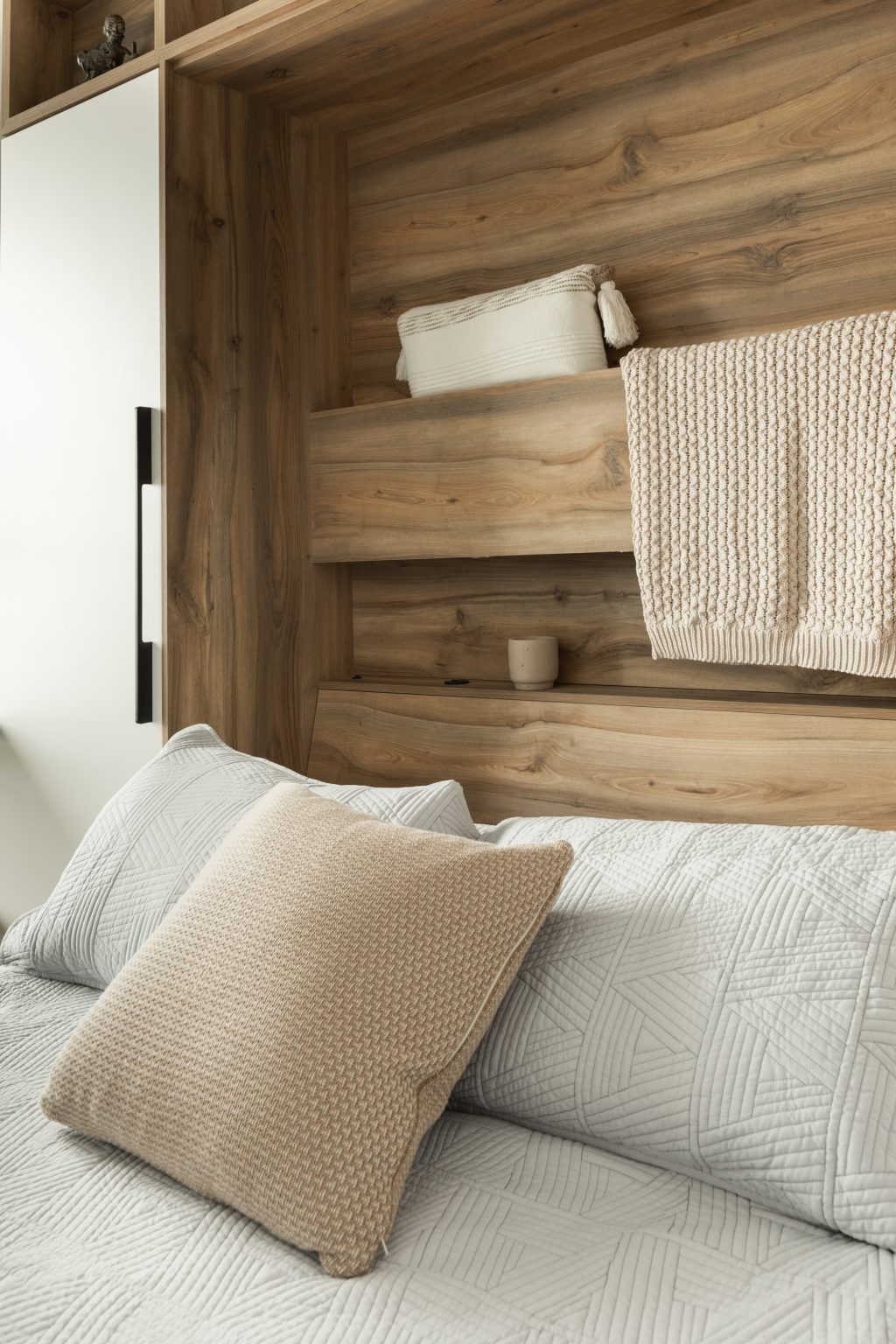 7. Use a footstool as a coffee table
If you're short of storage space in the living room, a footstool can be a wise choice. Choose a model with built-in storage, and simply place a tray on top to hold remote controls and other accessories. Bonus: the footstool can be used as an additional seating area when entertaining guests.
8. Install a medicine cabinet mirror
Who said mirrors with built-in medicine cabinets were only for the bathroom? If you're looking for an ingenious way to add space for your keys in the hallway or your jewelry in the bedroom, install a mirror with a medicine cabinet to hide your small items.
9. Choose folding furniture
Dual-purpose furniture doesn't sacrifice aesthetics for functionality. Foldable furniture, such as multifunctional desks or folding chairs, can be discreetly stored away when not in use, freeing up space in an office or small living room, for example.
10. Expandable tables
Sometimes, optimizing storage can be achieved by saving space. For example, an extendable dining room table can be enlarged to accommodate more guests for meetings or dinners, but leaves room for a shelf or sideboard for your daily dining room activities.
Optimize the space behind doors
One area often overlooked is the space behind doors. However, with a little imagination and a few practical tricks, it's possible to transform this unused space into functional storage. Before you start, make sure you assess the space available behind your door and take into account the direction in which it opens to avoid potential obstructions.
11. Double the rods
Clothes rails are ideal for adding bedroom storage space for your clothes when your closets are at capacity. Install a sturdy rod behind your closet door, and use it to hang garments such as shirts, dresses, jackets or pants.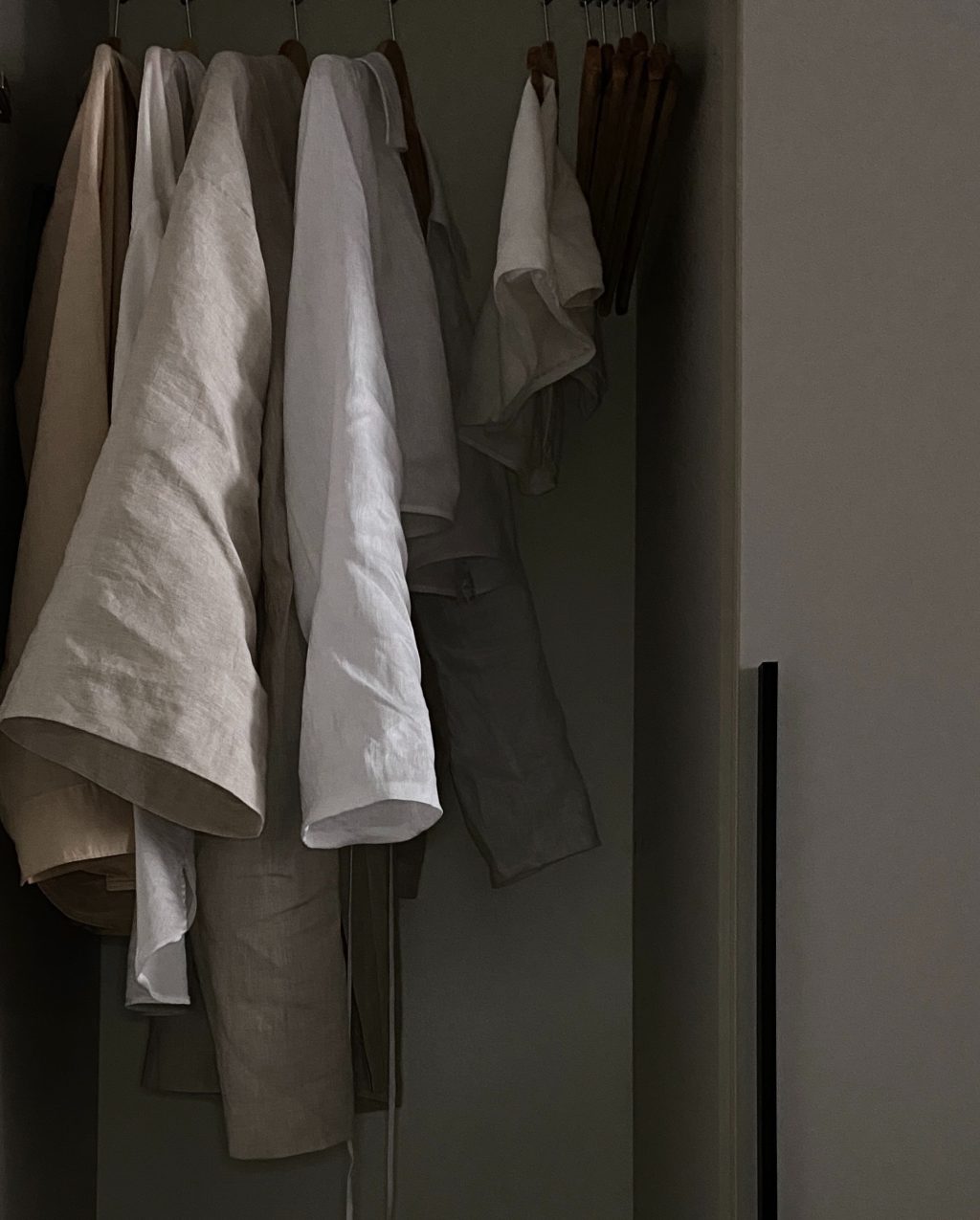 12. Install a perforated panel
Perforated panels are an excellent option for maximizing the use of space behind a door. Fasten them securely behind your door and use hooks or tool holders to hang items such as gardening tools, kitchen utensils, cleaning products or DIY accessories.
13. Store your shoes
If you want to keep your shoes organized, wardrobe storage behind the door is a great option. Choose a shoe rack model suited to the quantity of shoes you have and fix it behind the door. You can opt for a hanging model or one with pockets, depending on your preferences and the space available.
14. Hang baskets
Whether in the hallway, kitchen or bathroom, small baskets fixed to the back of your doors can give you quick access to items you use frequently. Household products, spices or toiletries will now be accessible at a glance, without having to bend over to see into the back of your cupboards.
15. Store your cutting boards
If you're looking for kitchen storage, you can use slim racks to store your cutting boards and even pot lids behind your doors. This will free up space in your cupboards and make your kitchen accessories more readily accessible.
Store at floor level
When it comes to optimizing storage space in a room, the often overlooked but extremely useful areas are the floor-level zones. By exploiting these valuable spaces, you can create extra storage for various items while maintaining an organized, uncluttered living environment.
16. Maximize space under the bed
Beds with built-in storage are perfect for bedrooms where storage space is limited. These storage beds feature a spacious box under the mattress, offering valuable space for storing clothes, sheets, blankets or other bedding items.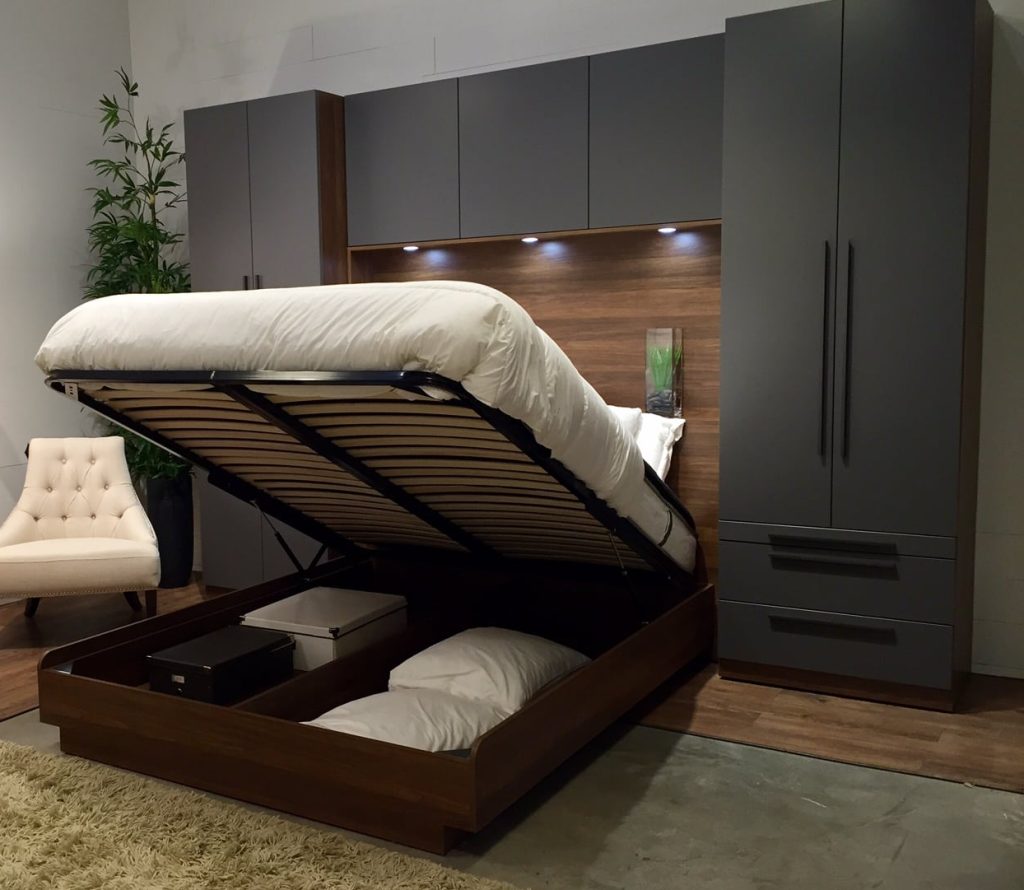 17. Put the superfluous in baskets
A pretty, decorative basket can furnish a corner of a wall without overpowering the decor. These baskets can become a quick storage area to avoid the mess of the daily grind.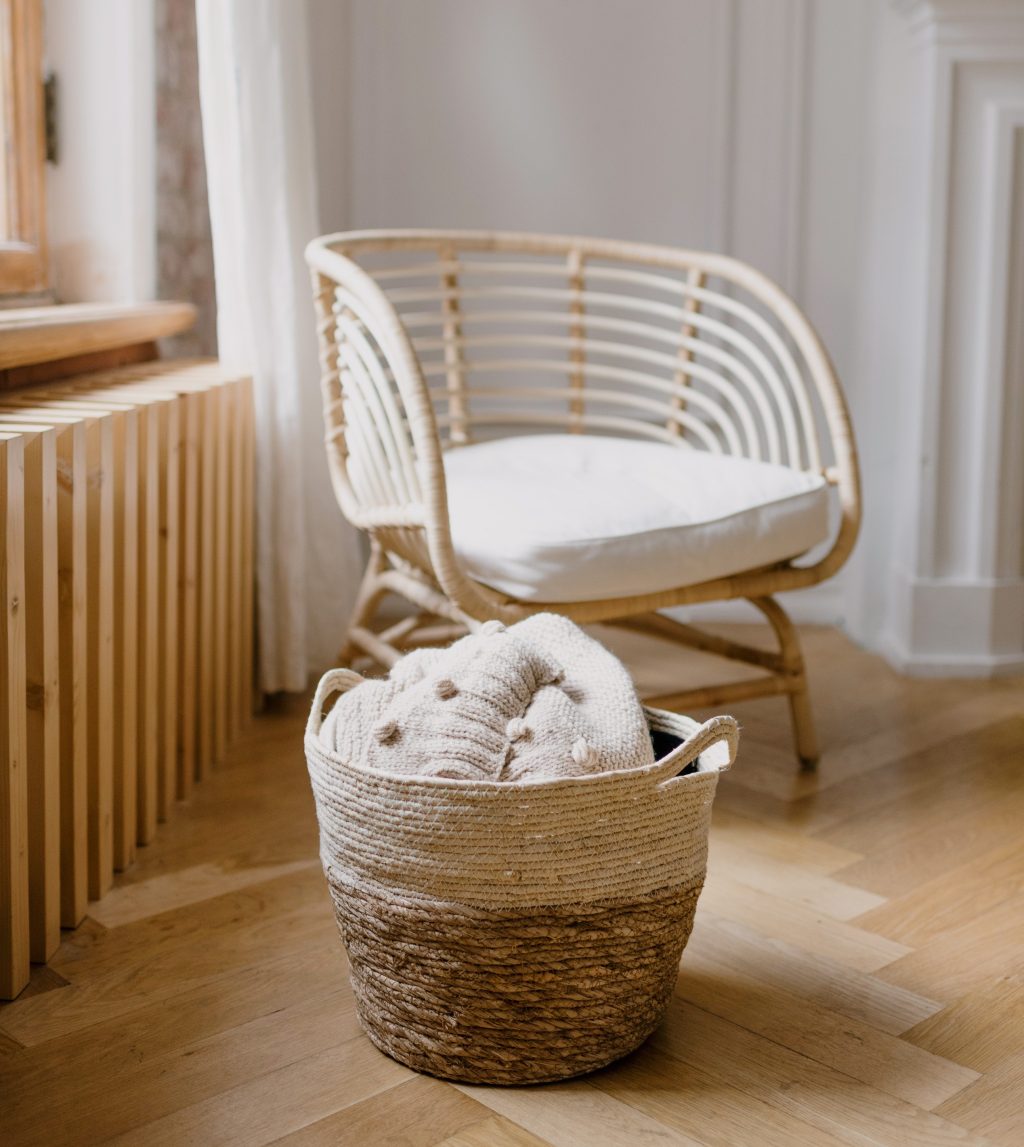 18. Consider the space under the stairs
The space under the stairs is undoubtedly the most underestimated part of the home when it comes to storage. To make the most of these often cramped spaces, opt for rolling storage drawers for quick and easy access.
19. Optimize the bottom of your wardrobes
To maximize storage space in your closet and keep the floor well occupied, use additional solutions such as laundry baskets, steps or boxes. These accessories will free up space in your main closet while keeping your items organized and within easy reach.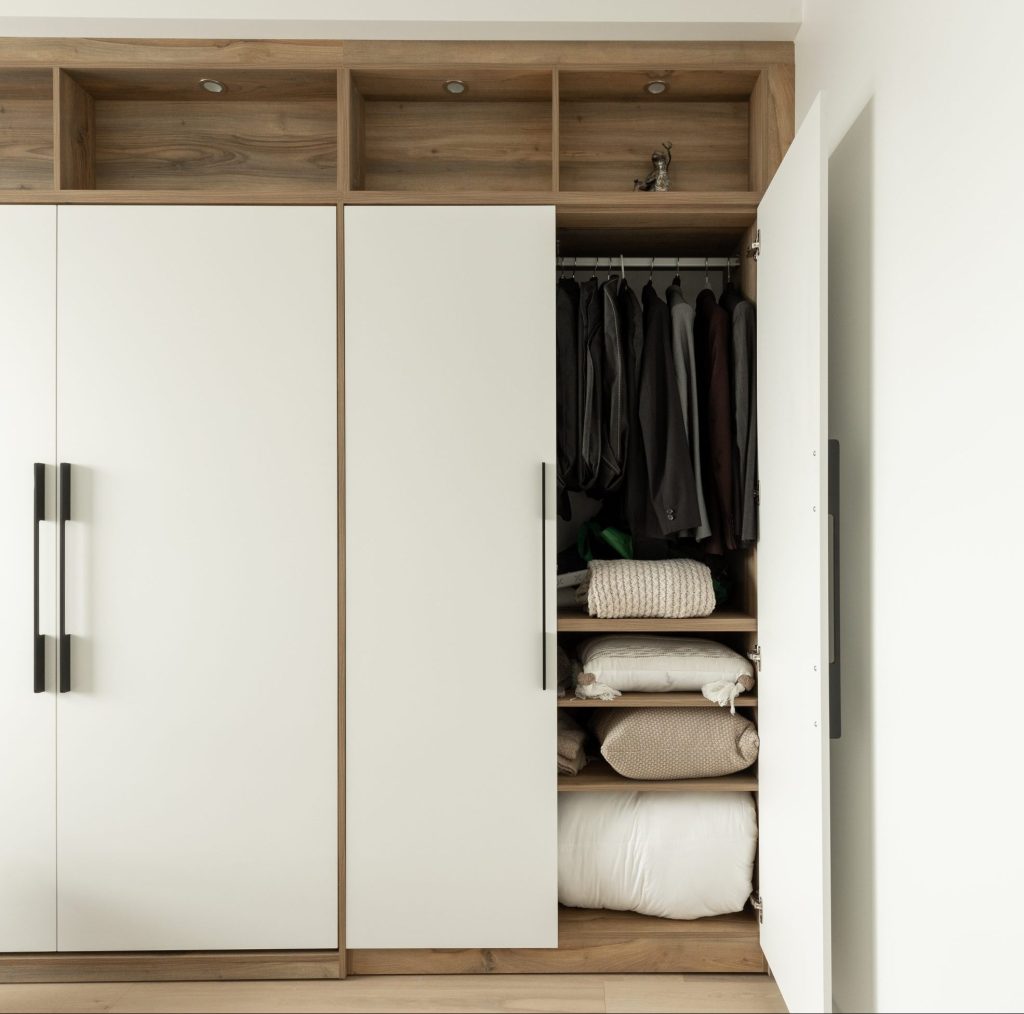 20. Rely on storage benches
Benches can be versatile storage furniture for your hallway, bedroom or living room. These benches feature an empty space under the seat and offer the perfect storage solution for the kids' playroom or other rooms that are cluttered with everyday items.
Make sure you can see clearly
When it comes to storing and organizing your belongings, quick and clear access can make a real difference. These tips will help you find what you need in no time, and keep your storage space organized.
21. Go for see-through containers
One of the main advantages of storing in transparent containers is the instant visibility of their contents. They also provide extra protection against dust and moisture, so your belongings will last even longer.
22. Rely on a rotating tray to make sure you don't miss a thing
With a simple rotation, you can easily reach the items at the back without having to remove the items in front, thanks to a rotating tray. It makes it much easier to find and use items on a daily basis, whether you're organizing spices in the kitchen, storing skincare products in the bathroom or using it as a desk organizer.
23. Choose a drawer organizer
Drawer organizers are invaluable tools for maximizing storage space and keeping your drawers organized. Use storage boxes or drawer dividers to store your clothes, utensils or other accessories. This keeps each category of items distinct and easily accessible.
24. Identify the contents of your boxes
If transparent containers aren't an option, make sure you can identify the contents of all your neatly arranged compartments. Instead of having to open each box to find out what's inside, a simple glance at the label will give you the information you need.
25. Fold vertically to see everything
By folding laundry vertically (Hello Marie Kondō👋) and storing it upright in drawers, you'll use space more efficiently. Unlike the traditional method of layering clothes, where only the clothes on top are visible, vertical folding lets you see all the clothes at a glance.
A place for everything and everything in its place
Organizing home storage may seem like a daunting task, but by following these organizing strategies, you can create a tidy, functional environment. Remember that organization is an ongoing process, so be patient and persistent in your efforts to maintain a harmonious environment.